Welcome to the Ellastone Village website!
We are also on
 and Twitter.
NEWSRAC: Sept 2018 – delivered free to homes in  Northwood, Ellastone, Wootton, Stanton, Ramshorn.

Emergency Numbers – supplied by the Ellastone Parish Council.
---

Ellastone Church Flowers – Please could we ask for help!
The Church would be grateful for any donations of flowers during September. (Sundays 16th and 23rd are already being donated by Mrs J Jennings). Phone 324859 if you think that you might be able to help out.
---
Ellastone Monday Club: Many thanks to John Titterton for coming to talk to the Monday Club about Heraldry in our local area.
Next month we shall be having a visit from the Woodland Trust, talking about their work. This talk is open to anybody who is interested in conservation.
---
Tennis Club: 
You can find out all about the club by pressing the link or going to the Ellastone Tennis Club Facebook page. Read about the new court fencing.
The 35th Ellastone Horticulture, Produce and Handicraft Show. 
Many thanks to the organisers, to everyone who took part and to those who braved the weather to attend the Show. Great cakes and a great atmosphere! It was also lovely to see the newly painted bar area of the Parish Hall.
We had a steady flow of visitors eager to view the produce, flowers, art,cookery, photographs and handicrafts and to meet up with friends over tea and cake
A huge thanks to all our sponsors, Wyaston nurseries, MG Simister, Wathalls,Nigel Davis, Fidler Taylor, the Duncombe Arms and finally, to Ed Barker who stepped in at the last minute to present the prizes.
Prize winners –
Most points in …
Flower classes. S Fowell
Vegetable classes D Lownds
Cookery classes. R Barker H Tideswell
Handicraft classes. L Plant
Best exhibit in …
Onion classes D Lownds
Cookery classes R Barker
Classes 5-14 (vegetables) G Chell
Fuchsia classes S Fowell
Dahlia classes D. Johnson
Classes 16-22(flowers) G Dyche
Alderman Bailey memorial shield for best exhibit in flower classes went to D Johnson
Dorothy Kitchen memorial cup for best exhibit in handicrafts went to F Carlisle
Councillors Peter and Betty Haynes trophy for most points in show went to G Chell
Top tray went to D Lownds
Top vase went to D Johnson
Children's classes- best exhibit in …
Cookery Sophie Chown and James Hiles
Arts. James Hiles
Fantastic and well done to everyone involved!
---
Ellastone Parish Hall

Users of the Parish Hall will see that a programme of improvements to the building has now started. The work is currently under way. Wireless internet is now available for clubs to use. Inevitably things may look a little untidy while work is underway but the committee hopes that no-one will be inconvenienced.
The Parish Hall is a building with a special history including, of course, its time as a hospital during the First World War. There is a project ongoing to document the history and there is a lot of information available up to the end of the Second World War, but little after this. It may be that there is an old minute book (or books) of meetings languishing in someone's attic. If anyone has any information or old photos would you please let us know. Thank you.
 If you would like to investigate hiring our beautiful old  Parish Hall for meetings or social occasions please press the link. Internet is now available.
---
Autumn Fair – November 24th 2018
Once again there will be an Autumn Fair in the Parish Hall, this year a little later in November, being on the 24th. It will run from 11am to 3pm with a selection of stalls to browse, plus refreshments and light lunches. If you would like to take a stall, the cost will be £10 for a single table, or £15 for two. Please get in touch with us if you wish to book a stall. Many thanks. Nick and Margaret Taylor Tel. 01335 324656
---
The Book Club – Do you like reading? Like some company or want to meet new friends?  How about joining a new social book club where members can meet up on a regular basis for a chat with coffee/wine and nibbles? Maybe meeting at members houses to discuss books and meet each other—all welcome! Interested ? Call Julie on 01335 324692 or email her at double.forgetmenot@gmail.com
---
Ellastone Parish Council – Just over 1% of residents' Council Tax Bills goes
to the Parish Council and, whilst it has decided to raise slightly more money ( a few pounds a year), its charge will still remain low compared with most other parts of Staffordshire.
Press the 
link to find out more …
---
Ellastone Reading Room
Snooker and Billiards are available in Ellastone at the "Reading Room". Situated adjacent to the Parish Hall on Church Lane and built in 1897, the Reading Room has a fullsize table available for Snooker and Billiards.
Membership is just £10 per year for adults, £6 for juniors (under16s) and £20 for Family
Membership. It costs only 50p per 20 minutes play. The room is also ideal for meetings and events and costs £10 for a meeting or £20 for an all day booking. If you want further information, please contact Arthur or Hilda Tideswell on 01335 324203.
---
Neibourhood Watch:   

Please can  you help? – Some parts of Ellastone no longer have a neighbourhood watch coordinator. The duties are not onerous, simply consisting of receiving e mails from the Police and forwarding them on to neighbours. The e mails are alerts on criminal activity, items to watch for, scams either on e mail or phone calls (from very nice-sounding people) etc. If you would like to volunteer as a coordinator for your part of the village, please email: Julie Sadler, our Parish Clerk, js.ellastonepc@gmail.com
---
Fast Broadband:

A reminder that Ellastone is able to access fast broadband. To find out if you are able to receive the enhanced service, you can put your postcode into the linecheck. If your address is listed as receiving the faster broadband then you should speak to your service provider about signing up for the fibre service. Many thanks to everyone who has fought to get this facility and especially to our MP Andrew Griffiths for his assistance in this matter.
---
Defibrillator 

If someone has a heart attack, or you suspect that is the case, you should phone 999 and they will provide the code for the box along with instructions as to what to do. If you would like more details press here.
---

Mobile Library
The Library 2018 Visits – Click on the link for more information

Mobile Post Office – The Post Office in Ellastone is in the Reading Room, adjacent to the Parish Hall on Monday and Thursday from 9.00am until 12.00 noon.
Please send us an email.
Have a look at what's on in Staffordshire & Derbyshire this week … 
DERBYSHIRE
STAFFORDSHIRE
Also consult the websites in the margin above on the right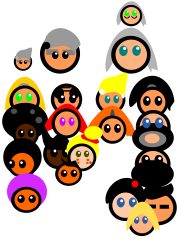 We have had quite a few enquiries from people researching their family tree. We have now set up a Genealogy page. If you have any useful information please let us know.
 If you would like us to put something onto the diary then please send us an email.
Everything that we publish is done in good faith. If you notice any mistakes, then please send us an email.
Many thanks to Dove Computers for hosting this website for Ellastone
Many thanks also to fg-a.com for their free clipart