Welcome to the Ellastone Village website!
We are also on
 and Twitter.
NEWSRAC: Feb18  delivered free to homes in  Northwood, Ellastone, Wootton, Stanton, Ramshorn & Calwich
Ellastone Monday Club
Many thanks to Angus Dalton & his daughter Rosie for a fascinating insight into ice-cream making. It goes without saying that the tasting part of the presentation was very VERY well received! Orders were made for the Valentine's Day selection and several members of the group were interested to find out about their shop and seating area.
---
Tennis Club: 
 You can find out all about the club by pressing the link or going to the Ellastone Tennis Club Facebook page.
---
Ellastone Parish Council
The next meeting of the Parish Council will be on Thursday 15th February at 7.30pm.
---
St Peter's Church – Vacancy for a cleaner to supplement the efforts of our volunteers. Hours and attendance will be by arrangement with the person appointed, but a minimum of four hours a month will be required – competitive rate of pay.
If you are interested, please call Barbara on 01335 324859
---
Ellastone Reading Room
Snooker and Billiards are available in Ellastone at the "Reading Room". Situated adjacent to the Parish Hall on Church Lane and built in 1897, the Reading Room has a fullsize table available for Snooker and Billiards.
Membership is just £10 per year for adults, £6 for juniors (under16s) and £20 for Family
Membership. It costs only 50p per 20 minutes play. The room is also ideal for meetings and events and costs £10 for a meeting or £20 for an all day booking. If you want further information, please contact Arthur or Hilda Tideswell on 01335 324203.
---
Ellastone Parish Hall 
If you would like to investigate hiring our beautiful old  Parish Hall for meetings or social occasions please press the link.
---
Neibourhood Watch:   

Please can  you help? – Some parts of Ellastone no longer have a neighbourhood watch coordinator. The duties are not onerous, simply consisting of receiving e mails from the Police and forwarding them on to neighbours. The e mails are alerts on criminal activity, items to watch for, scams either on e mail or phone calls (from very nice-sounding people) etc. If you would like to volunteer as a coordinator for your part of the village, please email: Julie Sadler, our Parish Clerk, js.ellastonepc@gmail.com
---
Fast Broadband:

A reminder that Ellastone is able to access fast broadband. To find out if you are able to receive the enhanced service, you can put your postcode into the linecheck. If your address is listed as receiving the faster broadband then you should speak to your service provider about signing up for the fibre service. Many thanks to everyone who has fought to get this facility and especially to our MP Andrew Griffiths for his assistance in this matter.
---
Defibrillator 

If someone has a heart attack, or you suspect that is the case, you should phone 999 and they will provide the code for the box along with instructions as to what to do. If you would like more details press here.
---
Mobile Library
The Library 2018 Visits – Click on the link for more information

Mobile Post Office – The Post Office in Ellastone is in the Reading Room, adjacent to the Parish Hall on Monday and Thursday from 9.00am until 12.00 noon.
Please send us an email.
Have a look at what's on in Staffordshire & Derbyshire this week … 
DERBYSHIRE
STAFFORDSHIRE
Also consult the websites in the margin above on the right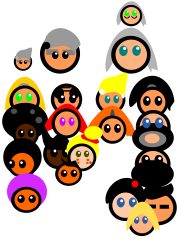 We have had quite a few enquiries from people researching their family tree. We have now set up a Genealogy page. If you have any useful information please let us know.
 If you would like us to put something onto the diary then please send us an email.
Everything that we publish is done in good faith. If you notice any mistakes, then please send us an email.
Many thanks to Dove Computers for hosting this website for Ellastone
Many thanks also to fg-a.com for their free clipart