Useful bits and pieces, especially of use to new residents.
If you are new to the village and would like to meet people – Friday early evening in the Duncombe Arms is a good bet! Fabulous food lunchtime and evenings.
Post – There are two post boxes in Ellastone: 1 – Along Dove Street on the right (towards the bridge) 2 – Near the junction of Wootton Road & Church Lane.  Collection is 09.00 weekdays and 07.00 Saturday
There is a Post Office service in the Parish Hall reading room Monday & Thursday: 9.00 – 12.00.
The Mobile Library  Route 13 2018 dates:    19 September, 10 October, 31 October, 21 November, 12 December. Route 13, calls at Ellastone 9.40 till 10.00 (Dove Street) every three weeks and then stops next in Ramshorn 10.15 till 10.30 (Telephone Kiosk). No service on Bank Holidays. Also please note that in bad weather you can renew your library books online.
Library Services – Consult this link to see the full range of services offered by Staffordshire library services.

ALSO get the library smartphone app – Consult this link for the full Download the library app for your smartphone for easy access to the library catalogue.

You can download the app.E-Books: There are now more than 5000 titles to choose from, more than double what was available just over two years ago when you could have just 3 items at a time. E-Books are available for all interests and ages, and while not everything published as a physical book is available to the eBook service, new authors and publishers are being added regularly.You can browse from the Genre tab to discover what is in the collection for your favourite non-fiction subject or fiction category. In the home page for the service you now can see a selection of Just Returned and Most Popular titles which is refreshed daily,To find out how to set up your e-book account, please follow E-Books instructions. (Please note that Kindle e-readers cannot be used to access this service)
---
Bins
 – What goes into each bin+ blue bag . When are my waste collection dates?
Waste collection 2019 – Please download your collection calendar for future reference and to see which bin should go out which week. Please ensure that containers are placed out at the kerbside for collection and that they are removed as soon as possible after the collection has taken place. Containers should only be presented out on the kerbside for your collection, they should not be on the street at any other time.
---
Bus stops and TimetablesBus stops are located on the Main Road, opposite the pub and at the top of Dove Street. Click on the picture to go directly to bus timetables: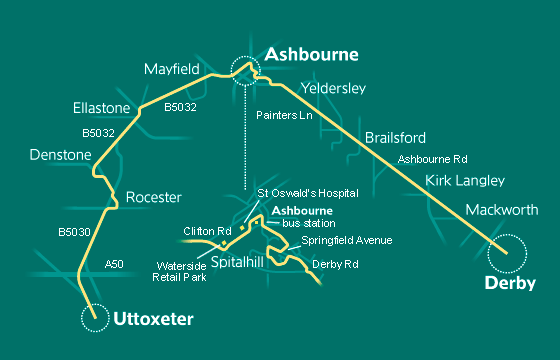 ---
Do you want to report something?
Highways  – Road, Footway/Pavement, Drainage, Verge Lighting & Signs, Traffic Management Public footpaths. Read about who is responsible for what regarding public footpaths and bridleways HERE – or ring 0800 269 098.The Community and Civil Enforcement Team
 cover residents' issues like dog fouling, littering & parking, to name a few. They are the first line of contact for the community and focus on engagement, education & enforcement and are the eyes & ears for the other enforcement areas within the Council. Also included in the role is the educating and enforcing of parking legislation and carries the issuance of penalty charge notices to illegally parked vehicles both on-street & off-street car parks. The Officers also report highway & parks issues to the correct departments and fly-tipping issues.                
Our local officer is:  Hayden.Poynton@eaststaffsbc.gov.uk or phone: 07966 342217
---
OR …… download the MyStaffs App
You can now access all your council services on the move by downloading the 'My Staffs App', free and available on Apple devices, android and Google platforms from the Apple App store and Google Play.
What is the MyStaffs app?  If you need to report an issue, make a transaction, or request information, with the free app you access key services anytime, anywhere.
You can even specify your location so that you receive information about the services which just apply in your area.
What's more is that the app doesn't just feature key county services but some at district and borough level too, which means you can access everything all in one place, at the touch of a button.
What's available on the app?
Services available through the app include:
•School Term Date Information
•School Closures
•Childcare
•Advice and information for parents of under 5s
•Local Venues and Attractions
•Waste Services
•School Meal Menus and Pricing
•Registration Services
•Council Tax Information
•Roads and Highways
---
Staffordshire Connects
Staffordshire Connects is an online directory of local care, support and wellbeing services, activities and events across Staffordshire aimed at the whole family at https://www.staffordshireconnects.info/kb5/staffordshire/directory/home.page
Staffordshire Connects makes it easier for people to find and access support and wellbeing services from hundreds of organisations, all in one place. With just a few clicks of a button, you can browse, compare, book and buy activities.
---
Water:
Just moved in? Look at this site. Got a leak? Want to report something?
---
—————————————————————————————————-
Potholes – Whilst the Parish Council remain on the case, anyone can phone up and report them – maybe the more of us who do, the better!The number is 0300 111 8000.
---
Snow and Ice:
Do you know where the nearest Grit Bin is in Ellastone to you? Click here 
Across the county there are a number of volunteer Ice Busters who are provided with grit and advice so that people can help each other to clear pathways in our local area. If you are interested in helping to clear pathways in Ellastone, take a look at becoming an Ice Buster.Even if you are not one of the county's Ice Busters there is no need to be put off about clearing snow yourself in public spaces for fear of facing litigation. People have a responsibility for themselves when walking on snow and ice; as a result it is highly unlikely that you will be sued by anyone for clearing snow. To date there has been no case of anyone winning such a case in the UK. You should still follow a common sense approach to clearing snow, so make sure you familiarise yourself with the snow code and East Staffordshire's grit bin pages as they give advice on how to clear snow responsibly and effectively.
Council Tax by postcode