Welcome to the Ellastone Village website!
We are also on Facebook.
Ellastone Family Fun Fest - What a fabulous event it was!
Much fun was had by all & the sun shone. Many thanks to all the organisers for their hard work and to the Keays family for the use of their beautiful gardens.
The event raised £1800 and the money is to be split between the Parish Hall, the Church and funding the installation of the new village defibrillator.
———————————————————————- 
The 31st Ellastone Horticulture, produce and Handicraft Show will take place on Sunday 24th August in the Parish Hall.
Classes for vegetables, flowers, cookery, handicrafts, art and photography. Press on the lovely logo for more info.
———————————————————————————————

1914-2014
In 1914, the Vicar, Edward Hornby Birley, had already been Vicar of Ellastone & Stanton for thirty nine years.  He married in 1874 and came to the parish in 1875.  Their son, Hugh Digby Birley (born 1876), succeeded him as vicar, when E H Birley retired in 1916.  The Vicar had a sister Miss Birley, who took part in village affairs and was a keen photographer. She took photographs of Ellastone and its environs in the late 19th and early 20th centuries and these are available to view at Stafford Record Office, as are the church magazines for 1913-1919.
Photo of Ellastone School Roll of Honour 
Read more by pressing the button: 
More to follow … And please do come to the display in church at the beginning of August.
——————————————————————————————————————
The Adam Bede Walk
A delightful booklet on the Adam Bede Walk has been produced by Ed Barker. If you wish to do the walk it will be invaluable to you, with lots of information about the route, but also about George Eliot's book and its characters.
Even if you are not walking, it is a lovely booklet to have with excellent photographs.
We are very grateful to Ed.
The booklets are available in Ellastone Church porch (suggested donation £2).
——————————————————————————————————————
Anyone for Tennis?
Has Wimbledon made you want to get out that racket again? At £12 per family for the whole year, the Ellastone tennis court really is a fabulous facility. Find out more by visiting the Ellastone Tennis Club page. Also, if you are a member and have not been contacted recently to give you the code for the tennis court lock then press the link above and let us know as we probably don't have your up-to-date details.
—————————————————————————————————
Lawn Bowls - 
Ellastone and District Bowls Club invites anyone who is interested to join them any Monday, Wednesday or Friday evening after 6.00pm (weather permitting). Members will be available to guide you in the art of  crown green bowling. Flat shoes to be worn. For more information, please ring Rose on 01335 324795 or Jean on 01889 591753.
————————————————————————————————————–
Post Office – Just a reminder
The Post Office in Ellastone is in the Reading Room, adjacent to the Parish Hall on Monday and Thursday from 9.00am until 12.00 noon.
NEWSRAC: Read our local newsletter online! July 2014  (available in a printed format free to homes in Northwood, Ellastone, Wootton, Stanton, Ramshorn and Calwich)

What's the weather forecast for this week? 
| | | | |
| --- | --- | --- | --- |
| The Mobile Library - comes to Ellastone every three weeks. It stops at Dove Street (2.25 – 2.35) & Duncombe Arms (2.40 – 2.55). Next vist = 23 July | | | |
Have a look at what's on in Staffordshire & Derbyshire this week … 
Day
 
Event
Location
July
DERBYSHIRE
July
STAFFORDSHIRE
 
 
Also consult the websites in the margin above on the right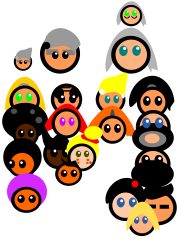 We have had quite a few enquiries from people researching their family tree. We have now set up a Genealogy page. If you have any useful information please let us know.
If you would like us to put something onto the diary then please send us an email. Everything that we publish is done in good faith. If you notice any mistakes, then please send us an email.
Many thanks to Dove Computers for hosting this website for Ellastone