Welcome to the Ellastone Village website!       
We are also on Facebook and Twitter.
NEWSRAC: Read our local Newsletter online! Oct-2016 (available in a printed format free to homes in  Northwood, Ellastone, Wootton, Stanton, Ramshorn and Calwich)
Thank you to the our lovely friends Duncan and Simon from BT for their excellent service getting us all back on line.
—————————————————————————————-
Some church dates for your social calendar …
Harvest Supper
Friday 30 Sept: Upper Crust caterers will be doing the main course and the Stanton team will be providing puddings. Please bring your own drinks as we are not a wine-growing or tea or coffee or coca cola region 🙂 + glasses. Tickets £8 from Nancy Barker, Gillyan Prince, Pam Shouksmith. Starts 19.30 in Ellastone Parish Hall.

Harvest Festival
Sunday 2nd Oct at 11.00. Please bring any donations of food and flowers at 9.00 on Saturday 1st.
…………………………………………………………………………………………………………………………….
.. and what do we say about the tug of war at the Duncombe? Well, firstly, well done our lads and lass for their silver medal performance!
There will of course be a village celebration with bunting and music … or maybe just a drink next Friday evening.
Interesting that the Team Wootton had done some practice prior to the event – and to their credit, did just beat us into second place. There was talk of banned substances, but to be fair, alcohol is freely available in a pub. We now have to consider the legacy and whether the funding is sufficient to get in a coach.
……………………………………………………………………………………………………………………………
This year's Ellastone Show was another feast for the eyes and also for the nose as the hall was bursting with the smells of summer. Press here to see the RESULTS. Many thanks to all those who organised and to those who took part by submitting produce and to everyone who gave a hand on the day as it is a fabulous annual village event.
……………………………………………………………………………………………………………………………..
Tennis Club competition

Ellastone Tennis Court – We now have a beautifully resurfaced court – go and take a peek!
To celebrate our new court the committee now propose a simple but most importantly, FUN, club knockout competition as follows:
Press the link for full details: CLUB KNOCKOUT COMPETITION
…………………………………………………………………………………………………………………………………
Fast Broadband: A reminder that Ellastone is now able to access fast broadband. To find out if you are able to receive the new enhanced service, you can put your postcode into the linecheck. If your address is listed as receiving the faster broadband then you should speak to your service provider about signing up for the fibre service. Many thanks to everyone who has fought to get this facility and especially to our MP Andrew Griffiths for his assistance in this matter.
…………………………………………………………………………………………………………………………………9.
Help needed:
Please does anyone have any information about this tremendous photo? What was the occasion? When was it? Can anyone offer any names? Let us know if you would like to see a larger and clearer copy.
Please send us an email.
Defibrillator 

If someone has a heart attack, or you suspect that is the case, you should phone 999 and they will provide the code for the box along with instructions as to what to do. If you would like more details press here.
………………………………………………………………………………………………………….
Mobile Library
The Library visits Ellastone every three weeks. It stops at Dove Street (9.40-10.00). 2016 Visits =  14 September, 5 October, 26 October, 16 November, 7 & 28 December.

Mobile Post Office – The Post Office in Ellastone is in the Reading Room, adjacent to the Parish Hall on Monday and Thursday from 9.00am until 12.00 noon.
Have a look at what's on in Staffordshire & Derbyshire this week … 
DERBYSHIRE
STAFFORDSHIRE
Also consult the websites in the margin above on the right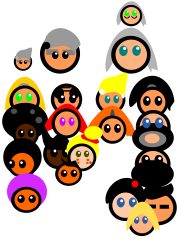 We have had quite a few enquiries from people researching their family tree. We have now set up a Genealogy page. If you have any useful information please let us know.
 If you would like us to put something onto the diary then please send us an email.
Everything that we publish is done in good faith. If you notice any mistakes, then please send us an email.
Many thanks to Dove Computers for hosting this website for Ellastone
Many thanks also to fg-a.com for their free clipart