Welcome to the Ellastone Village website!
Why not take a look at our Facebook page?

Happy Easter to all the village!
Strange shaped Easter Egg below? …
Anyone for Tennis?
…on our very own Ellastone tennis court? This is the time of the year when we are starting to get itchy feet wanting to do something – well find out more by visiting the Ellastone Tennis Club page. At £12 per family for the whole year, it really is a fabulous facility.
Lawn Bowls - 
Weather permitting  the green will be open from Friday 11th April, with two open afternoons arranged for Saturday 19th and 26th April, so if you would like to have a try at crown green bowling come along & meet the members from 2.00pm till 4.00pm.
Bingo with Fish & Chips  - oh what a night it was! Over 1/3 of the village turned out. A great time was had by all and many thanks to the organisers and to Ed for his excellent calling and putting up with the hecklers!! £485 was raised.
1914-2014 Display in Ellastone Church – update:
 Photo of Ellastone School Role of Honour - can anyone give us any information to add to our research? Have you any memorabilia of Ellastone during WW1? Read more by pressing the button: 
……………………………………………………………………………………………………………………………………..
NEWSRAC: Read our local newsletter online!    April 2014   (NEWSRAC is available free to homes in Northwood, Ellastone, Wootton, Stanton, Ramshorn and Calwich)  …………………………………………………………………………………………………………………………………

What's the weather forecast for this week? 
Ellastone Fun-Fest 12 July 2014 - The next Fun-Fest Planning Meeting – 14 April, 7.30 (Ellastone Reading Room). Press the link to read more about it. 
| | | | |
| --- | --- | --- | --- |
| The Mobile Library - comes to Ellastone every three weeks. It stops at Dove Street (2.25 – 2.35) & Duncombe Arms (2.40 – 2.55)   Dates of visits this month: 9 April, 30 April | | | |
April : Have a look at some of the events in Staffordshire and Derbyshire this week   : 
Day
 
Event
Location
 EASTER
 
DERBYSHIRE
 EASTER
 
STAFFORDSHIRE
 
 
Also consult the websites in the margin above on the right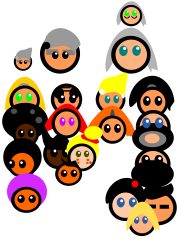 We have had quite a few enquiries from people researching their family tree. We have now set up a Genealogy page. If you have any useful information please let us know.
If you would like us to put something onto the diary then please send us an email. Everything that we publish is done in good faith. If you notice any mistakes, then please send us an email. Many thanks to Dove Computers for hosting this website for Ellastone