Welcome to the Ellastone Village website! 
We are also on Facebook and Twitter.
NEWSRAC: Read our local newsletter online! Dec 14 Jan 15  (available in a printed format free to homes in Northwood, Ellastone, Wootton, Stanton, Ramshorn and Calwich)
All are welcome to join us in this special service to give thanks for the pleasure and companionship that our pets give to us. Animals are welcome in Church – dogs on leads, other small pets in secure baskets please. A donkey from The Donkey Sanctuary Derbyshire Centre will be led into church as we sing 'Little Donkey Carried Mary'. Dogs are welcome to join in the singing!
————————————————————————————————————
St Oswald's Church Hall  -  Tuesday 9th December   –  £4
'Food, Drink and Wassail' an evening talk with a festive theme by Paul Barrass    For further details click here
What is Wassailing? Click the holly to find out more! 
———————————————————————————————
Ellastone Open Gardens 2015 – click on the link for more info……
————————————————————————————————-
Street Lighting – Due to several residents being unhappy about the proposal to switch off street lighting between midnight and 5.00, the Parish Council has decided not to take the suggestion any further. Some residents were concerned about safety in the village and the following article was alluded to:           The latest research into Street Lighting and Crime
———————————————————————————————————-
Ellastone Bowls Club
During the darker months the lawn bowling makes way for the indoor bowls. This takes place every Friday evening from 19.00 – 22.00 in the Parish Hall. This is a good time to join – just turn up with your £1.50, you'll have a very warm welcome.
————————————————————————————————————–
Post Office – Just a reminder
The Post Office in Ellastone is in the Reading Room, adjacent to the Parish Hall on Monday and Thursday from 9.00am until 12.00 noon.
| | | | |
| --- | --- | --- | --- |
| The Mobile Library - comes to Ellastone every three weeks. It stops at Dove Street (2.25 – 2.35) & Duncombe Arms (2.40 – 2.55). Next visit = 17 December. | | | |
Have a look at what's on in Staffordshire & Derbyshire this week … 
Day
 
Event
Location
December
DERBYSHIRE
STAFFORDSHIRE
 
 
Also consult the websites in the margin above on the right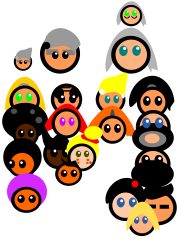 We have had quite a few enquiries from people researching their family tree. We have now set up a Genealogy page. If you have any useful information please let us know.
If you would like us to put something onto the diary then please send us an email. Everything that we publish is done in good faith. If you notice any mistakes, then please send us an email.
Many thanks to Dove Computers for hosting this website for Ellastone